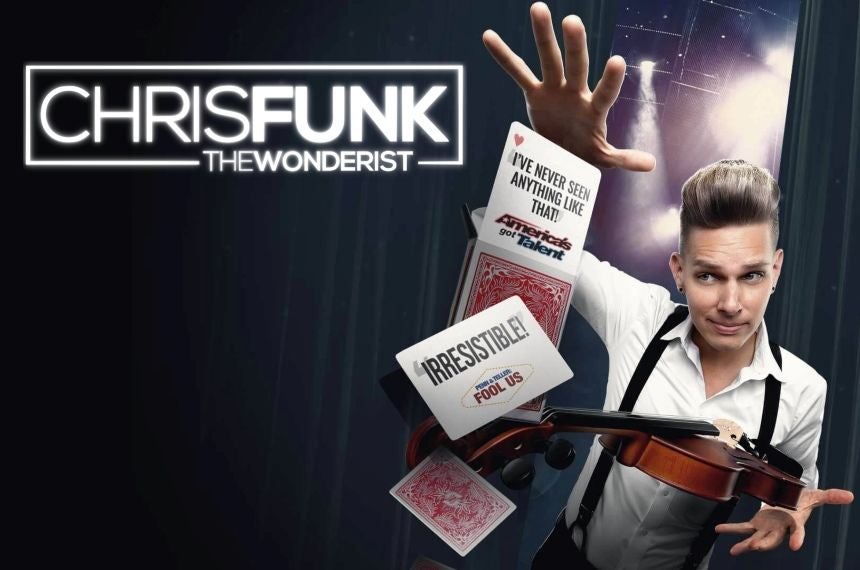 Chris Funk Magic
Tickets $37, October 28th 2023 at 2pm and 7:30pm
Oct
28
, 2023
Chris Funk Magic
Tickets $37, October 28th 2023 at 2pm and 7:30pm
Date

Oct

28

, 2023

Venue

Main Hall

Ticket Prices

$37 *plus fees

On Sale

On Sale Now
Event Details
Chris Funk Magic
Saturday, October 28th at 2pm and 7:30pm in the Main Hall
Tickets are $37 *plus fees
A magic show with live music, Chris Funk's REDEFINING WONDER is an engaging and visceral multimedia experience that will have you talking and scratching your head for years to come! Chris has pioneered the use of instruments like the violin, guitar, flute and more into his illusions. Whether it's a violin concerto to a magical dancing sheet of music to impossibly suspending various instruments on stage, this magic show is in a league of its own. Plus, audience members are brought up onstage and into the action, delivering a family-friendly show that will mesmerize and mystify!
The Mr. Cooper Group Lobby Gallery opens 1 Hour prior to the performance starting and the Main Hall doors open 30 Minutes prior to the performance starting.
*Concessions will be open before the performance.
Build Your Own Package Deal, 10% Off when you purchase tickets to 4 or more shows!
Purchase tickets to 4 or more shows at one time offered in our 2023-24 Season and receive 10% off on all tickets purchased.
Click Here to Build Your Own Package Today!
*Presentations by the Coppell Arts Center's resident companies are excluded from season subscriptions and Flex Ticketing Packages.
We offer a group discount when purchasing 10 or more tickets to a single show. If you would like to purchase 10 or more tickets to this show, please call or visit the Box Office to process your order. Call us at 972-304-7047