The Coppell Arts Center Foundation
The Coppell Arts Center Foundation is a non-profit 501(c)(3)* organization whose singular goal is to ensure the success of the Coppell Arts Center today and in the future.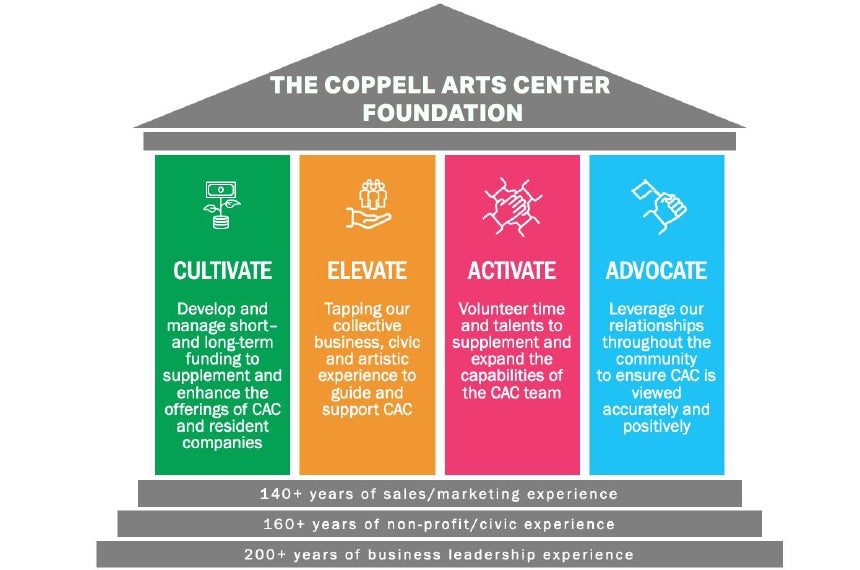 "We are a group of engaged citizens who have a passion for Coppell and a passion for the arts and who believe we can support the arts center by leveraging our gifts, talents and experience in a variety of ways."

Penelope Furry, President
Meet our Leadership Team
Officers:
Penelope Furry, President
Greg Goyne, Vice President
Todd Storch, Secretary
Beccy Ratliff, Treasurer
Directors:
Billie Bedsole
Balki Chamkura
Pamela Ferguson-Gaines
Nadia Givens
Dave Greenberg, MD
Ed Guignon
Jennifer Holmes, PhD
Kate Shema
Kenneth Trout
* Our federal taxpayer identification number is 30-1226250. We have filed for our 501c3 tax-exemption from the Internal Revenue Service, but have not yet received our final determination. As a result, your contribution may not yet be tax-deductible. Please consult with your tax professional to know for sure. When we have received our 501c3 tax-exempt determination, we will send you a new receipt with that information.