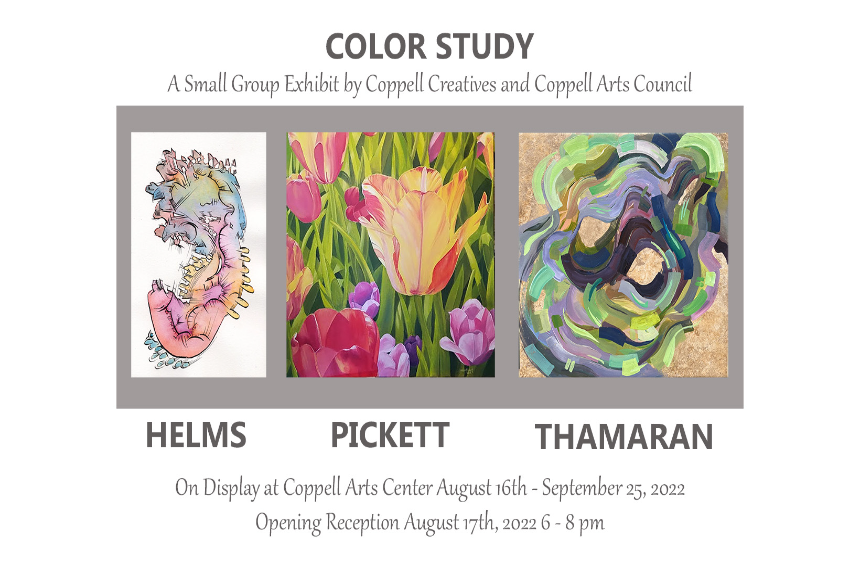 The Coppell Arts Council and Coppell Creatives present: Small Group Exhibit- Color Study
Admission is free, Come check out the exhibit from August 16th through September 24th
Aug
16
-
Sep
24
, 2022
The Coppell Arts Council and Coppell Creatives present: Small Group Exhibit- Color Study
Admission is free, Come check out the exhibit from August 16th through September 24th
Date

Aug

16

-

Sep

24

, 2022

Venue

The Mr. Cooper Group Lobby Gallery

Ticket Prices

Admission is free, Come check out the exhibit from July 19th-August 13th!
Event Details
The Coppell Arts Council and The Coppell Creatives Presents: Small Group Exhibit: Color Study
Tuesday, August 16th- Saturday, September 24th
Open during regular business hours, Tuesday-Saturday 10 am-5 pm
Admission is FREE
Please note that the building will be closed to the Public on the following dates:
Thursday, August 18,
Thursday, September 15th
Saturday, September 17th
The Center will also close at 12pm on Saturday, August 20th
In an exhibition titled Color Study, three artists, James Helms, Jennifer Pickett, and Meera Thamaran will be featured in the Mr. Cooper Lobby Gallery at the Coppell Arts Center, 505 Travis Street. The exhibit is facilitated in conjunction with Coppell Arts Council and Coppell Creatives. The show will be on display from August 16 through September 24, 2022. This exhibition showcases three artists that rely on color as an important component of their work.
About the Coppell Creatives
Coppell Creatives is a community organization established in 2015. This organization of visual artists, creatives, and supporters of the arts, all live or work in Coppell. The main goal of our organization is to increase the presence of visual arts in civic, cultural, educational, and aesthetic experiences throughout our events in the City of Coppell. We do this by supporting the Coppell Art Council to implement the outdoor rotating art exhibits in Old Town Coppell and at Andy Brown Park, by hosting juried fine art exhibits and by facilitating networking events for group members.
James Helms, a Coppell artist, has been creating art – drawing, painting, sculpting and experimenting with film, animation, photography, video and mixed media – for more than forty years. He also had a career in design for more than 20 years, first in art direction and graphic design, and more recently working in software design. In 2018, he began experimenting with watercolor, India ink, and other water-based pigments like foraged inks, traditional Chinese silver black, and acrylics. His work captures movement and inspires contemplation. James has also exhibited at Artspace 111 and in Craighead Green's New Texas Talent show in 2021.
After Jennifer Pickett graduated from Baylor University with a BFA in communication design, she started her career as a graphic designer and art director. But her dream job was always to be an illustrator and a fine artist. Jennifer quit her "day job" soon after her first daughter was born and has been drawing and painting from her home studio in Dallas, Texas ever since. Jennifer's work is inspired by the places she's been and the things she notices around her that have unique color, texture, perspective, or meaning. In the spring of 2019 two of her paintings were chosen to hang in the Founders Foyer Art Exhibit at the DCCCD Foundation offices. She also received an honorable mention in the League of Innovation Student Art Exhibition in 2021 and the 2022 Spring Student Exhibition at Dallas College, Brookhaven Campus.
Meera Thamaran is also a Coppell artist. She is a rising senior at The Hockaday School. Meera pursues art as a form of authentic creative expression, exploring her thoughts on human relations, emotions, and nature and translating vague inklings of theories into concrete visions on a canvas. She finds inspiration in lush mossy alcoves, the creek in her backyard teeming with frogs, snakes, and odd nymph statues, and human emotional expressions, such as the toxicity of instant gratification and overexerted happiness or the complexities of mortal fear. With a dual focus on abstract and realistic art, her work depicts themes using acrylic paint and acrylic ink on canvas, wood, and tile as a stand-alone composition or diptych. Meera recently placed in the Locally Sourced exhibit at the Coppell Art Center.