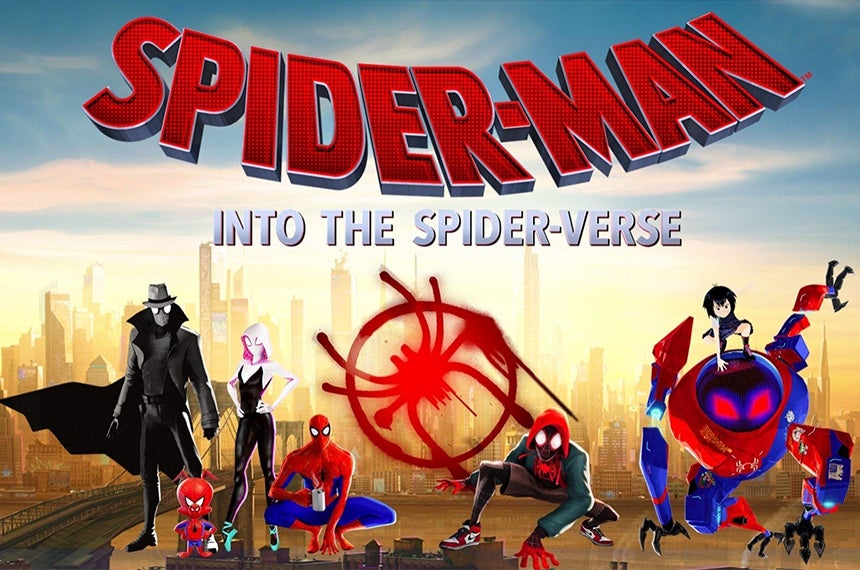 Spider-Man Into the Spider-Verse
Drive-In Movie Series: Tickets are $15 per vehicle
July
10
, 2021
Spider-Man Into the Spider-Verse
Drive-In Movie Series: Tickets are $15 per vehicle
Date

July

10

, 2021

Event Starts

8:30 PM

Venue

Coppell Arts Center

Doors Open

8:00 pm

Ticket Prices

$15 per vehicle

On Sale

On Sale Now
Event Details
Spider-Man Into the Spider-Verse is rated Rated PG and runs for 1 hour and 56 minutes. This feature starts at 8:30 pm.
Bitten by a radioactive spider in the subway, Brooklyn teenager Miles Morales suddenly develops mysterious powers that transform him into the one and only Spider-Man. When he meets Peter Parker, he soon realizes that there are many others who share his special, high-flying talents. Miles must now use his newfound skills to battle the evil Kingpin, a hulking madman who can open portals to other universes and pull different versions of Spider-Man into our world.
Tickets to the Drive-In are sold per vehicle.
The Parking Lot opens at 8 pm and spots are first-come, first served. Concessions will be available on-site for purchase.
Parental Guidance Rating Warning
This movie is rated PG and guidance is suggested. Some material may not be suited for children.
More Information and Rules of the Drive-In
1. Movies are Rain or Shine. If there is a severe weather event that causes us to cancel and not reschedule the movie, your tickets will be refunded to you.
2. The Coppell Arts Center is a cashless venue and accepts all major credit and debit cards for all Box Office transactions.
3. No Smoking or Littering is permitted anywhere on the property.
4. Outside food and beverage are allowed. However, no alcohol is permitted.
5. During the pre-show, we will instruct you to tune your FM radio to a station that will allow you to enjoy the movie from the comfort of your vehicle.
6. Lawn chairs placed outside of your vehicle are permitted.
7. You must park your vehicle where the parking attendant directs you to. Your vehicle will be parked facing forward, so please plan accordingly on how many people can sit in your vehicle and view the screen while parked facing forward. It is our goal to make sure everyone has the best view possible for the movie.
8. Only in the last row of the parking lot may a vehicle park nose in and open their hatch to view the movie. These spots are first come first served. Once filled, all other vehicles will be parked facing forward towards the screen, and your hatch will not be permitted to be open. The parking lot opens at 8:00 pm.
9. All lights must be off on your vehicle, including your parking lights.
10. Designated accessible parking with access to the restrooms and concessions will be available to patrons.
11. Diesel engines or aftermarket mufflers may not run their engines during showtime. Any other vehicle that does not provide excessive engine noise is welcome to keep their car running.
12. If your vehicle requires a tow or AAA service, they will not be allowed into the Drive-In until after the movie has ended.
The Coppell Arts Center has final discretion on all policies. Thank you for your compliance.
Box Office and Purchase Policy