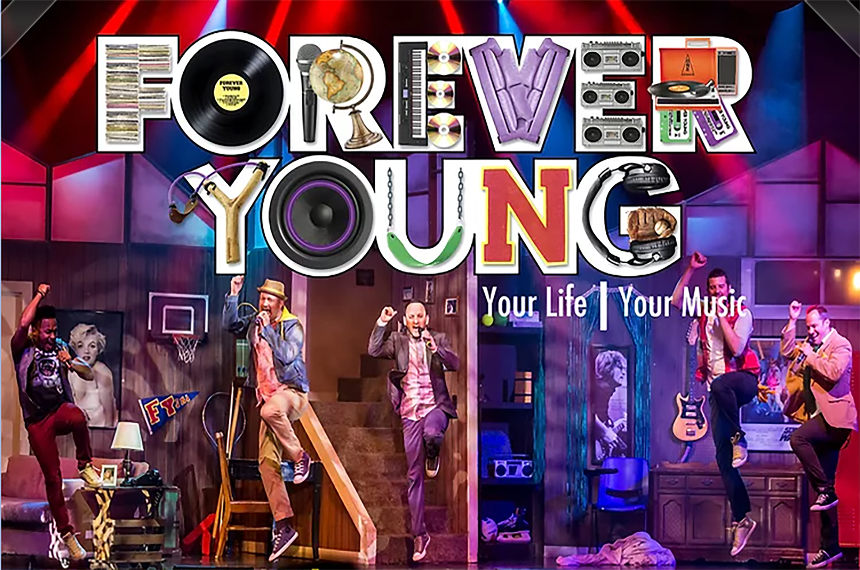 Forever Young
Tickets $40, performances February 11th at 2pm and 8pm
Feb
11
, 2023
Forever Young
Tickets $40, performances February 11th at 2pm and 8pm
Date

Feb

11

, 2023

Venue

Main Hall

Ticket Prices

Tickets $40, performances February 11th at 2 pm and 8 pm

On Sale

On Sale Now
Event Details
Forever Young
Saturday, February 11th at 2 pm and 8 pm in the Main Hall
Tickets are $40 *plus fees
Forever Young follows one unforgettable group of friends as they discover the greatest hits of all time! Set in a music-filled suburban basement, this unbelievable heartfelt true story is guaranteed to take you back to the first time you pushed play, tuned in, and set the needle down.
Featuring songs by; Billy Joel, The Beatles, The Rolling Stones, Huey Lewis & The News, Styx, Queen, Michael Jackson, Bob Dylan, Johnny Cash, Brooks & Dunn, The Black Crows, Bon Jovi, and many more, this multi-award-winning production is jam-packed with powerhouse vocals, dynamite choreography, and one sensational true story that is guaranteed to make you feel…FOREVER YOUNG.
The Mr. Cooper Group Lobby Gallery opens 1 Hour prior to the performance starting and the Main Hall doors open 30 Minutes prior to the performance starting.
*Concessions will be open before the performance.
Flex Season Package Deal, 10% Off when you purchase tickets to 4 or more shows!
Purchase tickets to 4 or more shows at one time offered in our 2022-23 Season and receive 10% off on all tickets purchased.
Click Here to Customize Your Flex Package Today!
*Tickets to the Dallas Symphony Orchestra performance and presentations by the Coppell Arts Center's resident companis are excluded from season subscriptions and Flex Ticketing Packages.
We offer a group discount when purchasing 10 or more tickets to a single show. If you would like to purchase 10 or more tickets to this show, please call or visit the Box Office to process your order. Call us at 972-304-7047