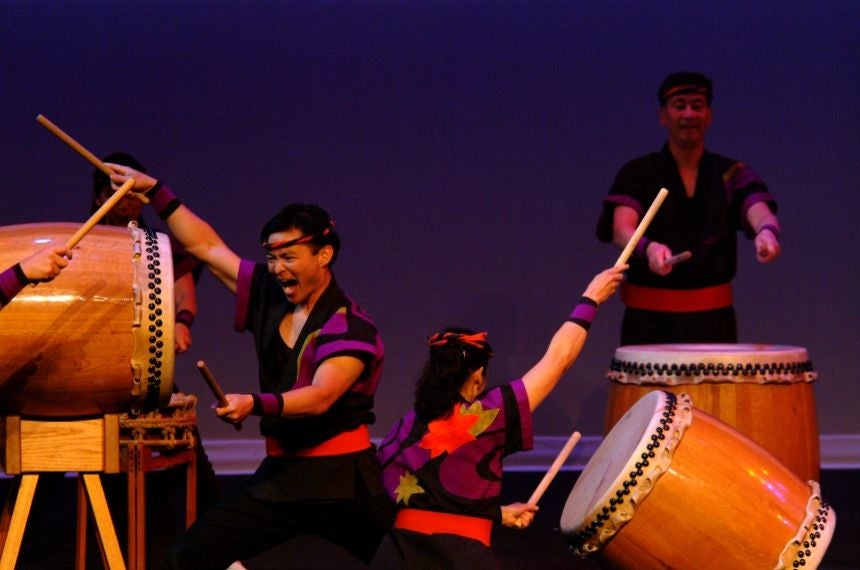 San Jose Taiko Evening Concert
Tickets $35, January 28th at 7 pm
Jan
28
, 2023
San Jose Taiko Evening Concert
Tickets $35, January 28th at 7 pm
Date

Jan

28

, 2023

Event Starts

7:00 PM

Venue

Main Hall

Ticket Prices

Tickets $35, performance starts at 7pm

On Sale

On Sale Now
Event Details
San Jose Taiko
January 28th at 7pm in the Main Hall
Tickets are $35 *plus fees
San Jose Taiko has mesmerized audiences for three decades with the powerful and propulsive sounds of the taiko drum. Inspired by traditional Japanese drumming, San Jose Taiko performers express the beauty and harmony of the human spirit though the voice of taiko. All compositions performed by SJT are written or arranged by members of the group. Composing, choreographing, designing and producing costumes and handcrafting of the drums are all part of this holistic process. Through this singleness of mind and spirit, harmony is achieved and the music rings with unity and clarity.

SJT has broadened this historical art form into a style that joins the traditional rhythms of Japanese drumming with other world rhythms, including African, Brazilian, Filipino, Latin, and jazz, bridging many styles, while still resonating with the Asian soul in America. Company members study both traditional and contemporary dance with leading choreographers, producing performances that are theatrical extravaganzas of movement and music.
The Mr. Cooper Group Lobby Gallery opens 1 Hour prior to the performance starting and the Main Hall doors open 30 Minutes prior to the performance starting.
*Concessions will be open before the performance.
Flex Season Package Deal, 10% Off when you purchase tickets to 4 or more shows!
Purchase tickets to 4 or more shows at one time offered in our 2022-23 Season and receive 10% off on all tickets purchased.
Click Here to Customize Your Flex Package Today!
*Tickets to the Dallas Symphony Orchestra performance and presentations by the Coppell Arts Center's resident companis are excluded from season subscriptions and Flex Ticketing Packages.
We offer a group discount when purchasing 10 or more tickets to a single show. If you would like to purchase 10 or more tickets to this show, please call or visit the Box Office to process your order. Call us at 972-304-7047