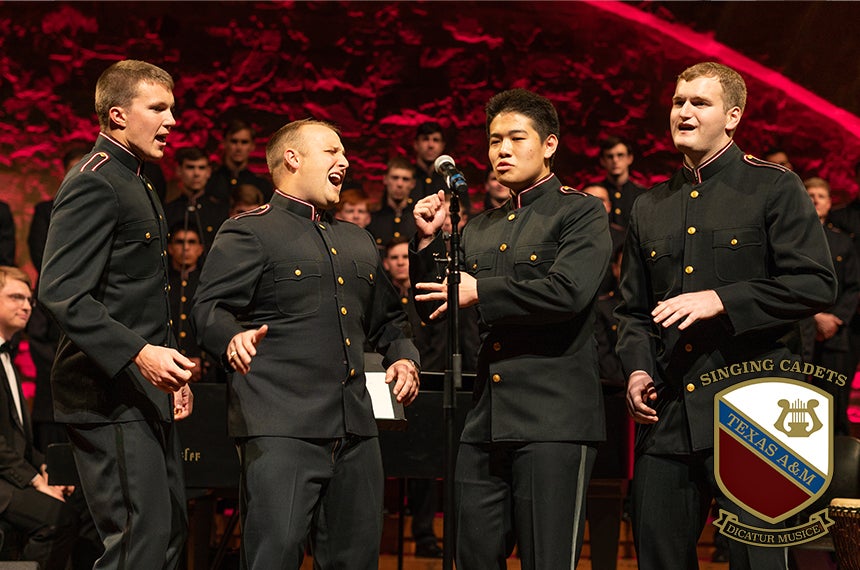 The Coppell Arts Center Foundation Presents the Texas A&M Singing Cadets
Tickets are $20 for Adults & $10 for Students
Jan
8
, 2022
The Coppell Arts Center Foundation Presents the Texas A&M Singing Cadets
Tickets are $20 for Adults & $10 for Students
Date

Jan

8

, 2022

Event Starts

7:00 PM

Venue

Main Hall

Ticket Prices

Tickets $20 for Adults & $10 for Students with a valid ID

On Sale

On Sale Now
Event Details
The Coppell Arts Center Foundation Presents the Texas A&M Singing Cadets
Saturday, January 8th at 7:00 pm in the Main Hall
Tickets are $20 for Adults & $10 for Students *plus fees
The voice of Aggieland is here in Coppell to entertain alumni, friends, and families of North Texas presented by the Coppell Arts Center Foundation. The Singing Cadets started from humble beginnings as the A&M College of Texas All-Male Glee Club, formed in 1893. The Singing Cadets is Texas A&M University's premier men's chorus, now in their 117th touring season.
The purpose of the Singing Cadets shall be to enhance the public relations of Texas A&M University through musical presentations as deemed appropriate by the Director and to develop disciplined leaders of character as defined by the Singing Cadet Handbook. The four pillars of the Singing Cadets are Purpose, Unity, Spirit, and Honor. Together, these four pillars have formed the solid foundation that has inspired and enabled our organization to succeed in carrying out its purpose for well over a century. It is the Coppell Arts Center Foundation's honor to host the Singing Cadets at the Coppell Arts Center.

Click Here to learn more about the Coppell Arts Center Foundation
The Mr. Cooper Group Lobby Gallery opens 1 Hour prior to the performance starting, and the Main Hall doors open 30 Minutes prior to the performance starting.
*Concessions will be open before the performance and during intermission.

Performance is 2 hours long with one 15 minute intermission.
More information about the Texas A&M Singing Cadets
Learn how to be a part of the Coppell Arts Center Foundation Today