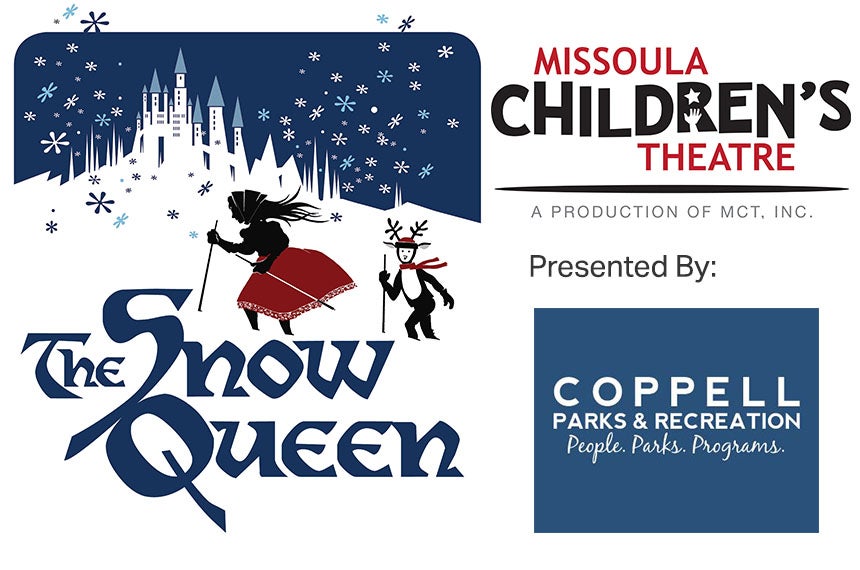 The Snow Queen a Missoula Children's Theatre Production
Presented by Coppell Parks & Recreation in the Main Hall, $5 Tickets *Plus Fees
July
24
, 2021
The Snow Queen a Missoula Children's Theatre Production
Presented by Coppell Parks & Recreation in the Main Hall, $5 Tickets *Plus Fees
Date

July

24

, 2021

Venue

Main Hall

Ticket Prices

$5 Tickets *plus fees

On Sale

On Sale Now
Event Details
The Snow Queen
in the Main Hall
Saturday, July 24th at 3 pm & 6 pm
Tickets are $5.00 plus fees *this is a General Admission Ticket
Take a journey with fun-loving Hobgoblins to the "land of colored ice," this classic tale will warm your heart in its illustrative retelling by a group of fun-loving, imaginative hobgoblins. As they depict the journey of a young girl and her quest to find her best friend, you may just find yourself believing in malevolent mirrors, yetis, talking reindeer, and snow chickens! Blizzards can come at any moment, so strap on some snowshoes and get ready to discover what it takes to overcome chilling obstacles, keep resilience alive, and melt down the Snow Queen's icy wall.
This original musical production is part of the Missoula Children's Theatre's unique international touring project and is presented locally by the City of Coppell Parks & Recreation Department. Come and be entertained by the Missoula Children's Theatre and more than 50 local students performing an original musical adaptation of THE SNOW QUEEN.

If you would like to purchase more than 10 tickets to this show, please call or visit the Box Office to process your order. Call us at 972-304-7047
The Mr. Cooper Group Lobby Gallery opens 1 Hour prior to the performance starting and the Main Hall doors open 30 Minutes prior to the performance starting.

If you would like to purchase 10 or more tickets to this show, please call or visit the Box Office to process your order. Call us at 972-304-7047