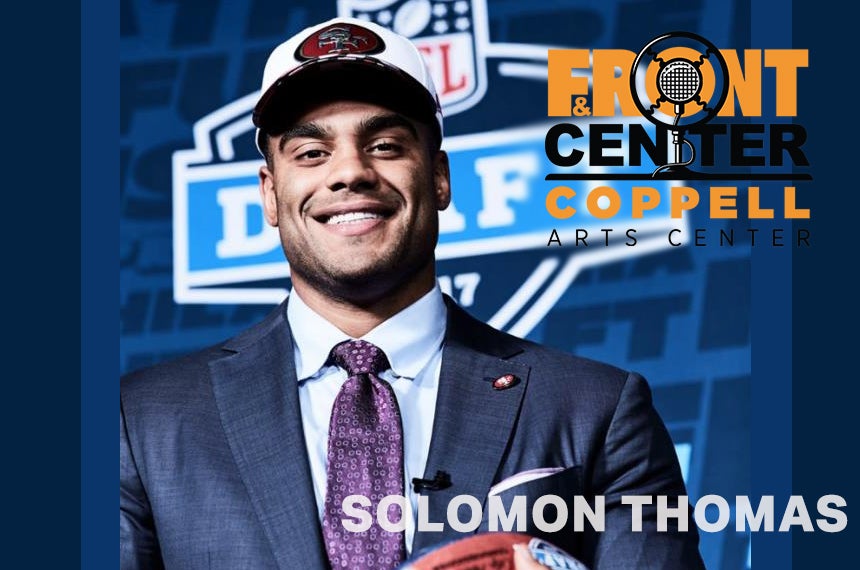 Front & Center: Solomon Thomas
Tickets $39 in the Main Hall at 6 pm
Apr
3
, 2022
Front & Center: Solomon Thomas
Tickets $39 in the Main Hall at 6 pm
Date

Apr

3

, 2022

Event Starts

6:00 PM

Venue

Main Hall

Ticket Prices

Tickets $39, in the Main Hall at 6 pm

On Sale

On Sale Now
Event Details
Solomon Thomas
April 3rd at 6 pm in the Main Hall
Tickets are $39 *plus fees
Front & Center is a topical speaker series that will have an annual theme focusing on significant national and global discourse. The series will bring renowned thought leaders to share their authentic, unique perspectives on the year's topic, provoke self-reflection, and conclude with a Q&A with audience members.
The 2021-22 Front & Center speaker series will focus on racial inequality and inclusion in America. As our nation and the world mourn the senseless killings of George Floyd, Ahmaud Arbery, Breonna Taylor, and so many others, the conversation of racism in America is essential and overdue. To lead us with this important conversation and reflection, we will bring two thought leaders to the Main Hall: Carla Hall on February 6th, 2022, and Solomon Thomas on April 3rd, 2022.
Solomon Thomas was born in Chicago, Illinois, on August 26, 1995. Thomas and his family moved to Sydney, Australia when he was two years old, where he lived for five years. He attended Coppell High School in Coppell, Texas. He committed to Stanford University to play college football. He majored in communications.
After redshirting his first year at Stanford in 2014, Thomas played in all 14 games in 2015. In 2016, Thomas played and started all 13 games and had 62 total tackles with 15.0 TFL and 8.0 sacks. Thomas was named first team All-Pac-12, All-America, and won the Morris Trophy.
Following the 2016 season, Solomon declared his intentions to enter the 2017 NFL Draft. He was selected 3rd overall in the draft by the San Francisco 49ers. Thomas was drafted by the San Francisco 49ers in the first round with the third overall pick in the 2017 NFL Draft. The man who drafted Thomas, newly appointed 49ers general manager John Lynch had by chance studied alongside Thomas as a mature student while working as a broadcaster for FOX Sports.
Solomon currently lives in Palo Alto area. His mother Martha and father Chris reside in Dallas, Texas. After suffering mental health issues and abuse, his sister Ella died by suicide on January 23, 2018. Ever since, Solomon and his foundation, the Defensive Live, has made mental health awareness and suicide prevention their mission. The Defensive Line Foundation is dedicated to end the epidemic of youth suicide, especially for young people of color, by transforming the way we communicate and connect about mental health.
The Mr. Cooper Group Lobby Gallery opens 1 Hour prior to the performance starting and the Main Hall doors open 30 Minutes prior to the performance starting.
*Concessions will be open before the performance.
We offer a group discount when purchasing 10 or more tickets to a single show. If you would like to purchase 10 or more tickets to this show, please call or visit the Box Office to process your order. Call us at 972-304-7047