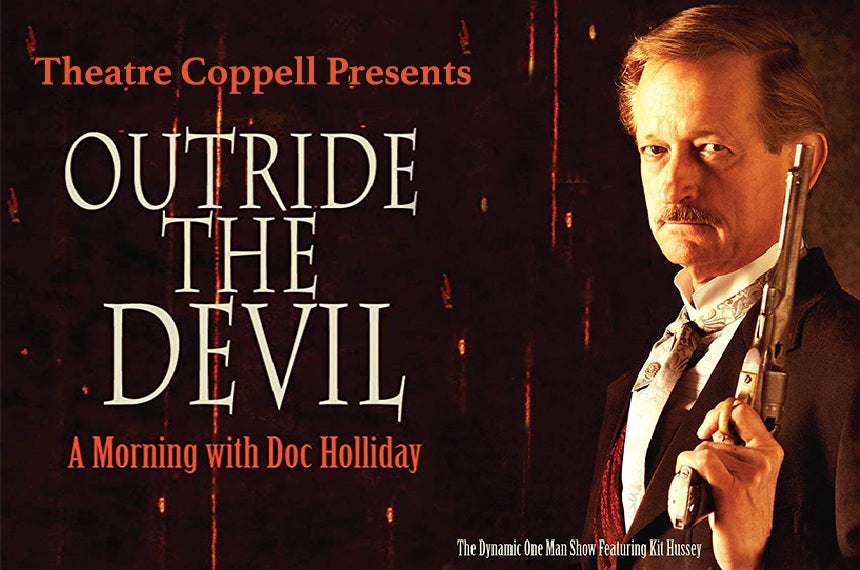 Theatre Coppell Presents Outride the Devil: A Morning with Doc Holliday
An Exclusive Free Virtual Performance for Season Ticket Patrons
Mar
6
-
12
, 2021
Theatre Coppell Presents Outride the Devil: A Morning with Doc Holliday
An Exclusive Free Virtual Performance for Season Ticket Patrons
Date

Mar

6

-

12

, 2021

Venue

Wheelice Wilson Jr, Theatre

Ticket Prices

Free! Click On Buy Tickets to Watch Starting 3/6 at 7 pm

On Sale

On Sale Now
Event Details
Please Click On Buy Tickets to watch for free, available from March 6th to 12th.
Theatre Coppell's previous season had to be canceled due to the pandemic. As Theatre Coppell works on rescheduling a new season, Executive Director Wheelice Wilson, Jr. presents this free virtual performance to his loyal and current season ticket holders.
Outride the Devil: A Morning with Doc Holliday is written, directed, and starring Kit Hussey.
The play presents highlights from the last fourteen years of Doc Holliday's life and culminates with a re-enactment of the gunfight at the OK Corral in Tombstone, Arizona. Outride the Devil was filmed at the Creative Arts Theatre in Arlington, Texas.
Instructions on How to Access & Watch the Show
Click below to access and view Outride the Devil: A Morning with Doc Holliday's virtual performance.
Click Here to View the Performance
This virtual performance will premiere on March 6th at 7 pm and then be able to view until midnight on March 12th.
If you have any questions please contact the Box Office by phone at 972-304-7047 or Click Here to Email Us and we will be happy to assist you.
Learn More About Theatre Coppell
Theatre Coppell has entertained and inspired local residents with comedies, dramas, and musicals for more than 25 years. Shows were presented at schools and other locations in the area until 1999 when the City of Coppell converted an unused fire station to the Coppell Center for the Arts.
The theatre was established in the mid-1980s as Coppell Community Theatre by a core group of volunteers, most of which are still active in the theatre. The first two shows, presented in 1988, were "Mostly Music," a variety show fundraiser, and "A Funny Thing Happened on the Way to the Forum."
Learn More about the Writer/ Director Kit Hussey
Kit Hussey has acted in and directed a number of shows for Theatre Coppell, including Rumors, The Prisoner of Second Avenue, and Jacob Marley's Christmas Carol. He is an expert at making custom props—for shows like Into the Woods to clients like the Dallas Cowboys.