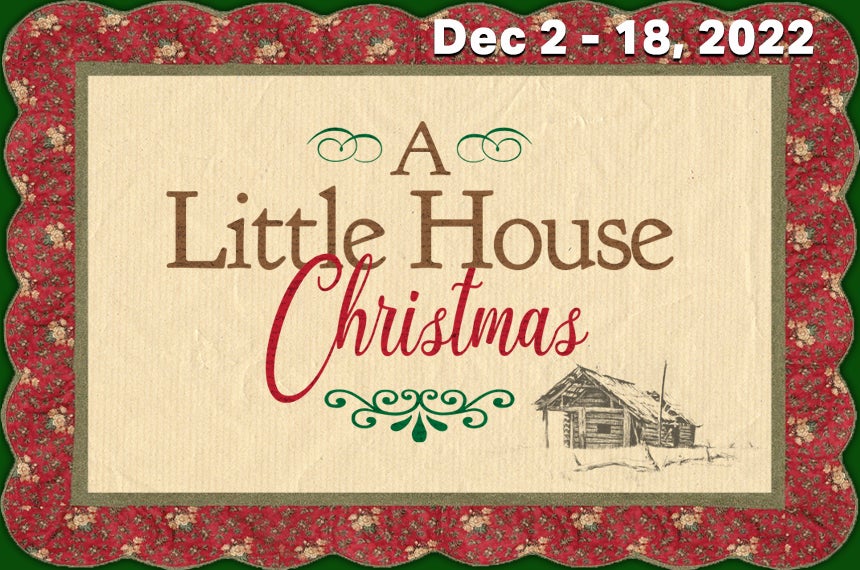 Theatre Coppell Presents: A Little House Christmas
$22 Adult Tickets & $19 Senior/ Student Tickets *plus fees
Dec
2
-
18
, 2022
Theatre Coppell Presents: A Little House Christmas
$22 Adult Tickets & $19 Senior/ Student Tickets *plus fees
Date

Dec

2

-

18

, 2022

Venue

Wheelice Wilson, Jr. Theatre

Ticket Prices

$22 Adults & $19 Senior/ Student Tickets *plus fees

On Sale

On Sale Now
Event Details
A Little House Christmas
By James DeVita
Presented by Theatre Coppell in the Wheelice Wilson, Jr. Theatre
December 2, 3, 9, 10, 16 & 17 at 8:00 pm and December 4, 11 & 18 at 2:30 pm
Tickets are $22 for Adults and $19 for Seniors & Students *plus fees
Based on the LITTLE HOUSE books by Laura Ingalls Wilder
The Ingalls family is warm and happy in their little house by Plum Creek, just outside the town of Walnut Grove. School starts and the children eagerly learn their A-B-C's until it's time for the Christmas holidays, and everyone is keeping secrets about the presents they have to give. All the characters are there: Laura, Mary, Carrie, Ma, Pa, Mr. and Mrs. Olsen, and Nellie, and there are surprises all around on Christmas Day that remind us that love is the greatest gift of all.


If you would like to purchase 10 or more tickets to this show, please call or visit the Box Office to process your order. Theatre Coppell offers a 10% discount on group tickets. Call us at 972-304-7047
The Mr. Cooper Group Lobby Gallery opens 1 Hour prior to the performance starting and the Wheelice Wilson, Jr. Theatre doors open at 30 Minutes prior to the performance starting.
*Concessions will be open before the performance and during intermission.
Click Here to Donate to Theatre Coppell Today!

To select your own seat please click on a seating section in the Wheelice Wilson, Jr. Theatre.
Learn More About Theatre Coppell
Theatre Coppell has entertained and inspired local residents with comedies, dramas, and musicals for more than 25 years. Shows were presented at schools and other locations in the area until 1999 when the City of Coppell converted an unused fire station to the Coppell Center for the Arts.
The theatre was established in the mid-1980s as Coppell Community Theatre by a core group of volunteers, most of which are still active in the theatre. The first two shows, presented in 1988, were "Mostly Music," a variety show fundraiser, and "A Funny Thing Happened on the Way to the Forum."
Click Here to Donate to Theatre Coppell
If you would like to purchase 10 or more tickets to this show, please call or visit the Box Office to process your order. Theatre Coppell offers a 10% discount on group tickets. Call us at 972-304-7047