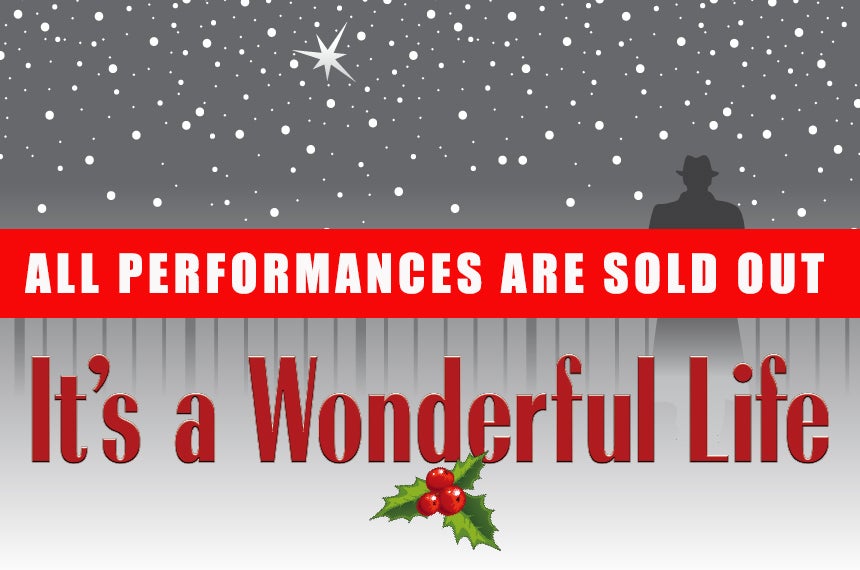 Theatre Coppell Presents: It's a Wonderful Life
All Performances are SOLD OUT
Dec
3
-
19
, 2021
Theatre Coppell Presents: It's a Wonderful Life
All Performances are SOLD OUT
Date

Dec

3

-

19

, 2021

Venue

Wheelice Wilson, Jr. Theatre

Ticket Prices

All Performances are SOLD OUT

On Sale

On Sale Now
Event Details
It's a Wonderful Life
Presented by Theatre Coppell in the Whellice Wilson, Jr. Theatre
December 17 & 18 at 8:00 pm and December 19 at 2:30 pm
Tickets are $22 for adults and $19 for Seniors & Students *plus fees
All Performances are SOLD OUT

It's a Wonderful Life is a musical adaptation of Frank Capra's masterpiece film. This is the saga of George Bailey, the Everyman from the small town of Bedford Falls, whose dreams of escape and adventure have been squashed by family obligations and civic duty, and whose guardian angel has to descend on Christmas Eve to save him from despair, and to remind him – by showing him what the world would have been like had he never been born – that he has had, after all, a wonderful life.
If you would like to purchase 10 or more tickets to this show, please call or visit the Box Office to process your order. Theatre Coppell offers a 10% discount on group tickets. Call us at 972-304-7047
The Mr. Cooper Group Lobby Gallery opens 1 Hour prior to the performance starting, and the Wheelice Wilson, Jr. Theatre doors open 30 Minutes prior to the performance starting.
*Concessions will be open before the performance and during intermission.
Learn More About Theatre Coppell
Theatre Coppell has entertained and inspired local residents with comedies, dramas, and musicals for more than 25 years. Shows were presented at schools and other locations in the area until 1999 when the City of Coppell converted an unused fire station to the Coppell Center for the Arts.
The theatre was established in the mid-1980s as Coppell Community Theatre by a core group of volunteers, most of which are still active in the theatre. The first two shows, presented in 1988, were "Mostly Music," a variety show fundraiser, and "A Funny Thing Happened on the Way to the Forum."
Click Here to Donate to Theatre Coppell
If you would like to purchase 10 or more tickets to this show, please call or visit the Box Office to process your order. Theatre Coppell offers a 10% discount on group tickets. Call us at 972-304-7047