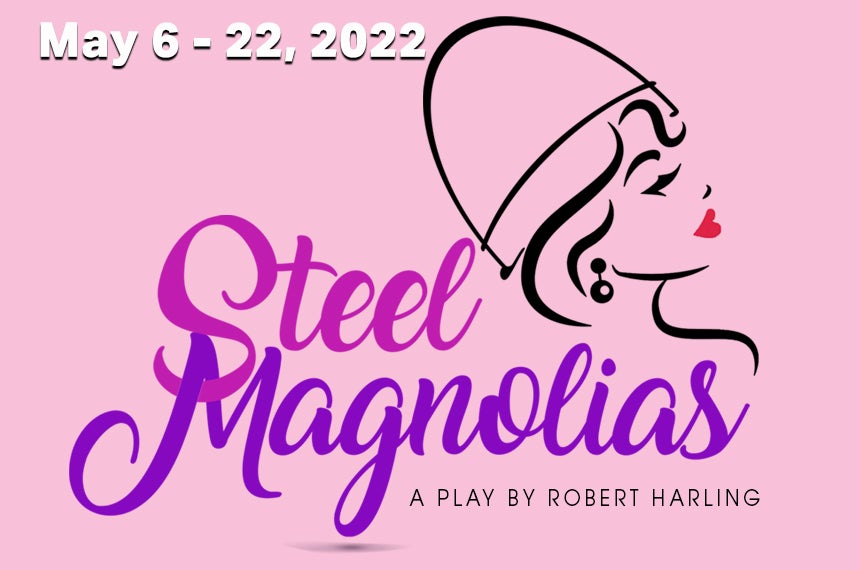 Theatre Coppell Presents: Steel Magnolias
$22 Adult Tickets & $19 Senior/ Student Tickets *plus fees
May
6
-
22
, 2022
Theatre Coppell Presents: Steel Magnolias
$22 Adult Tickets & $19 Senior/ Student Tickets *plus fees
Date

May

6

-

22

, 2022

Venue

Wheelice Wilson, Jr. Theatre

Ticket Prices

$22 Adults & $19 Senior/ Student Tickets *plus fees

On Sale

On Sale Now
Event Details
Steel Magnolias
By Robert Harling
Presented by Theatre Coppell in the Wheelice Wilson, Jr. Theatre
May 6, 7, 13, 14, 20 & 21 at 8:00 pm and May 8, 15 & 22 at 2:30 pm
Tickets are $22 for Adults and $19 for Seniors & Students *plus fees
All the ladies who are anybody come to have their hair done at Truvy's hair salon. Truvy is helped by her eager new assistant, Annelle, who is not sure whether or not she is still married, and Truvy dispenses shampoos and free advice to the town's rich curmudgeon Ouiser, ("I'm not crazy, I've just been in a bad mood for forty years."); an eccentric millionaire Miss Clairee; and the local social leader, M'Lynn, whose daughter Shelby is about to get married. Later Shelby, a diabetic, risks her health to have a baby. The sudden realization of their mortality affects the others, but also draws on the underlying strength—and love—which makes them a truly touching, funny, and marvelously amiable company in good times and bad.


If you would like to purchase 10 or more tickets to this show, please call or visit the Box Office to process your order. Theatre Coppell offers a 10% discount on group tickets. Call us at 972-304-7047
The Mr. Cooper Group Lobby Gallery opens 1 Hour prior to the performance starting and the Wheelice Wilson, Jr. Theatre doors open at 30 Minutes prior to the performance starting.
*Concessions will be open before the performance and during intermission.
Click Here to Donate to Theatre Coppell Today!

To select your own seat please click on a seating section in the Wheelice Wilson, Jr. Theatre.
Learn More About Theatre Coppell
Theatre Coppell has entertained and inspired local residents with comedies, dramas, and musicals for more than 25 years. Shows were presented at schools and other locations in the area until 1999 when the City of Coppell converted an unused fire station to the Coppell Center for the Arts.
The theatre was established in the mid-1980s as Coppell Community Theatre by a core group of volunteers, most of which are still active in the theatre. The first two shows, presented in 1988, were "Mostly Music," a variety show fundraiser, and "A Funny Thing Happened on the Way to the Forum."
Click Here to Donate to Theatre Coppell
If you would like to purchase 10 or more tickets to this show, please call or visit the Box Office to process your order. Theatre Coppell offers a 10% discount on group tickets. Call us at 972-304-7047