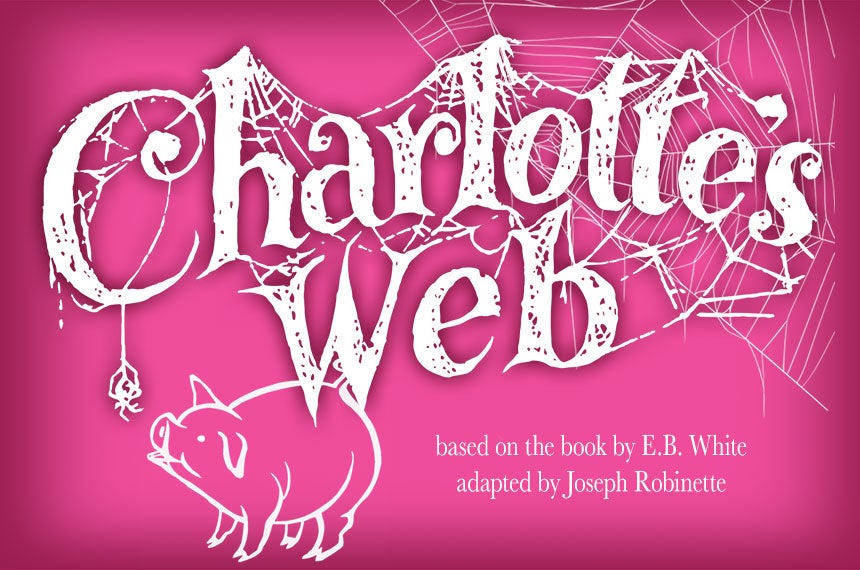 Charlotte's Web
Presented by Theatre Coppell
Apr
5
-
21
, 2024
Charlotte's Web
Presented by Theatre Coppell
Date

Apr

5

-

21

, 2024

Venue

Wheelice Wilson, Jr. Theatre

Ticket Prices

$22 Adults & $19 Senior/ Student Tickets *plus fees

On Sale

On Sale Now
Event Details
Charlotte's Web
Based on the book by E.B. White; Adapted by Joseph Robinette

April 5, 6, 12, 13, 19, 20 at 8 PM
&
April 7, 14 and 21 at 2:30 PM


The Children's Literature Association named this "the best American children's book of the past two hundred years". All the enchanting characters are here: Wilbur, the irresistible young pig; Fern, a girl who understands what animals say to each other; Templeton, the gluttonous rat; the Zuckerman family; the Arables; and, most of all, the extraordinary spider, Charlotte, who proves to be a true friend and a good writer. Determined to save Wilbur, Charlotte begins her campaign with the "miracle" of her web in which she writes, "Some pig." This is a beautiful, knowing play about friendship that provides an evening of enchantment.

If you would like to purchase 10 or more tickets to this show, please call or visit the Box Office to process your order. Theatre Coppell offers a 10% discount on group tickets. Call us at 972-304-7047
The Mr. Cooper Group Lobby Gallery opens 1 Hour prior to the performance starting and the Wheelice Wilson, Jr. Theatre doors open at 30 Minutes prior to the performance starting.

Click Here to Donate to Theatre Coppell Today!


To select your own seat please click on a seating section in the Wheelice Wilson, Jr. Theatre.
Additional Ticket Information
Season tickets for the Theatre Coppell 2024 Season are on sale now. Tickets for individual productions are available for purchase 30 days in advance of the opening night of the production run.
Learn More About Theatre Coppell
Theatre Coppell has entertained and inspired local residents with comedies, dramas, and musicals for more than 35 years. Shows were presented at schools and other locations in the area until 1999 when the City of Coppell converted an unused fire station to the Coppell Center for the Arts.
The theatre was established in the mid-1980s as Coppell Community Theatre by a core group of volunteers, most of which are still active in the theatre. The first two shows, presented in 1988, were "Mostly Music," a variety show fundraiser, and "A Funny Thing Happened on the Way to the Forum."
Click Here to Donate to Theatre Coppell
If you would like to purchase 10 or more tickets to this show, please call or visit the Box Office to process your order. Theatre Coppell offers a 10% discount on group tickets. Call us at 972-304-7047