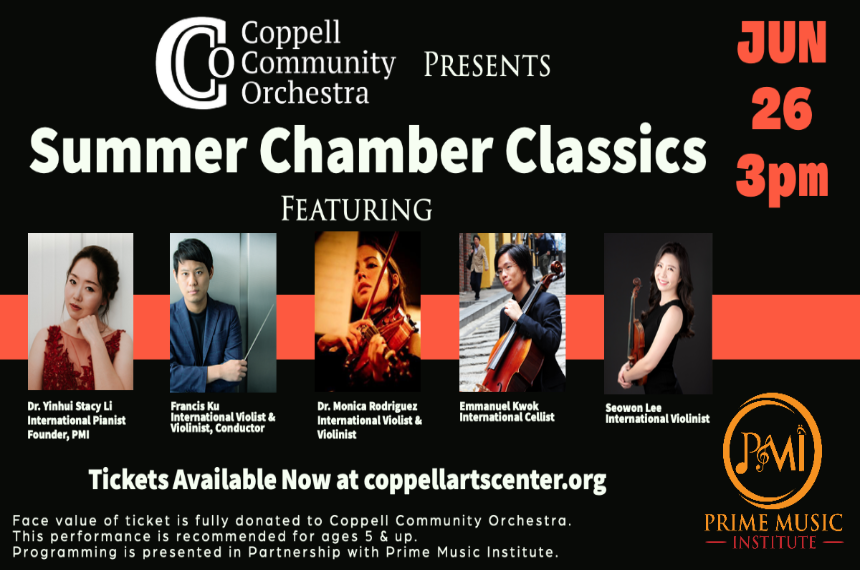 The Coppell Community Orchestra: Summer Chamber Classics
Tickets are $20 for Adults, $5 for Students/Children
June
26
, 2022
The Coppell Community Orchestra: Summer Chamber Classics
Tickets are $20 for Adults, $5 for Students/Children
Date

June

26

, 2022

Event Starts

3:00 PM

Venue

Main Hall

Doors Open

2:00 PM

Ticket Prices

Tickets are $20 for Adults, $5 for Children/ Students

On Sale

On Sale Now
Event Details
Coppell Community Orchestra: Summer Chamber Classics
Sunday, June 26th at 3 pm in the Main Hall
Tickets are $20 for Adults, $5 for Students/Children
Coppell Community Orchestra presents Summer Chamber Classics, in partnership with Prime Music Institute.
This concert features incredible world-class musicians who are coming together for a rare one-time performance just for Coppell & to support the Coppell Community Orchestra.
Featured Musicians: Dr. Yinhui "Stacy", Dr. Monica Rodriguez,
Emmanuel Kwok, Seowon Lee, and Francis Ku. All proceeds for this event will go toward supporting our Coppell Community Orchestra.
Click Here to learn how to donate to the Coppell Community Orchestra today.
The Mr. Cooper Group Lobby Gallery opens 1 Hour prior to the performance starting, and the Main Hall doors open 30 Minutes prior to the performance starting. Concessions will be open before the performance.
The Coppell Community Orchestra Organization
Emmanuel Kwok:
Tsun-yuet's wide knowledge of cello technique and repertoire will be a wonderful resource……
His work ethic will without a doubt inspire all those around him."
Christine Lamprea, Artist-Teacher of Cello, Longy School of Music
Native of Hong Kong, Tsun-yuet Emmanuel Kwok has appeared as soloist in Europe, Asia, and the United States, and has also performed over 30 world premieres of contemporary music. Kwok currently holds the position of principal cello at McKinney Philharmonic Orchestra and has previously played with orchestras including the Dallas Chamber Symphony, Plano Symphony, Irving Symphony, Hong Kong New Philharmonic, Collegium Musicum Hong Kong and Hong Kong Chinese Orchestra. He played solo and chamber recitals both in Asia and in the States, and solo appearances with orchestras including Mesquite Symphony, Mansfield Philharmonic, Coppell Community Orchestra, Collegium Musicum Hong Kong, Hong Kong Academy of Performing Art Academy Orchestra and Hong Kong Baptist University Symphony Orchestra. He has received awards including 1st prize in the Hong Kong Music Festival and 2nd prize in the National Competition of Asia. In addition to his classical performance, he worked with worship ministries and pop singers in Southeast Asia, recording more than ten albums as solo cellist; in 2021, he also worked with RedSeaMusic (CA, USA) to produce music videos.
Kwok began cello study at the age of 6 in Hong Kong under Ms. Tung Hiu-lo, later he has finished his Master of Music in cello performance with Professor Ray Wang at the Hong Kong Academy for Performing Arts. He is currently a doctoral candidate (ABD) at TCU School of Music, majoring in Cello Performance with cognate in Music Theory. In the U.S. his primary teachers included Jesús Castro-Balbi and Eugene Osadchy. He also had the privilege of coaching by Johannes Moser, Lynn Harrell, Steven Isserlis, Bagram Saradjian, Dmitri Atapine, Maja Bogdanovic and Li-Wei Qin. As musician and scholar, Kwok holds memberships of Pi Kappa Lambda International Music Honor Society and Golden Key International Honor Society, and is a regular member of Mu Phi Epsilon Concert Series.
Kwok currently served as faculty of Prime Music Institute and Greenville Suzuki Strings, and was appointed as assistant to artistic director of the Texas Cello School in 2021. He had served as faculty of Clear Creek Music Festival (OR), TCU Summer Cello Academy, Greater North Texas Youth Orchestra and Fort Worth B Sharp Youth Music Program; he also serves as teaching assistant of international renowned cellist Jesús Castro-Balbi, as well as assistant director of TCU Cello Ensemble during his time at TCU. Kwok believes in Authentic Christianity and the philosophy of Authentic Music Performance.
Francis Ku: Francis Ku, from Hong Kong, is currently a doctoral candidate in Orchestral Conducting at the Louisiana State University. He holds a Master of Music in Orchestral Conducting and a Certificate in Violin Performance from the University of Texas at Arlington. Mr. Ku was recognized as a Scholar of the College of Liberal Arts for exceptional academic accomplishment. He embarked on his conducting career after being inspired by Francis Kan, conductor of the Macao Orchestra. His conducting mentors include Clifton Evans, Robert Gutter, Ovidiu Balan, Charles Gambetta, Niels Muus, Scott Terrell and Damon Talley. He has also participated in masterclasses of Craig Kirchhoff, Diane Wittry, Jahja Ling, Mark Gibson and Mikko Franck.
In 2017, Francis Ku was selected as the winner of the fourteenth annual International Conductor's Workshop and Competition in Atlanta and appeared as the guest conductor in a performance with the Gwinnett Symphony Chamber Orchestra. In January 2018, Mr. Ku was named Outstanding Academy Conductor by the International Institute for Conductors. The award included a professional engagement with the Bacau Philharmonic in Romania.
Besides performing as a conductor, Mr. Ku is also an active orchestral violinist and violist. Violin was his primary instrument during his undergraduate study at the Hong Kong Baptist University and he obtained the Licentiate of Trinity College London in Violin Recital. During his study at the University of Texas at Arlington, he served as Assistant Conductor, Concertmaster and Viola Principal of the symphony orchestra. His violin and viola mentors include Gibert Sak, Martha Walvoord and Cathy Forbes.
Dr. Monica Rodriguez, Violinist: Monica de la Hoz is a native of Brazil. She holds a Doctoral Degree in viola and violin performance from the Louisiana State University and two Masters' Degrees, in violin performance from The University Southern Mississippi and in viola performance from University of New Mexico. During her time spent in New Mexico, she also received the Certificate in Suzuki Philosophy and Violin Teaching Long Term Training under Professor Susan Kempter.
Monica took part in numerous international music festivals and masterclasses with artists as Roberto Diaz, Nadja Salermo, Erick Friedman and Manfredo Kraemer. As a soloist, she gave solo and chamber recitals in Brazil, USA, Panamá, Slovakia, Germany and Italy, and is the winner of the Louisiana Viola Society Competition (2011). She currently settled in Texas and is a violin faculty of A&M Texas University in Commerce and Greenville Suzuki Strings. Besides teaching, Monica also holds position as a violist of Baton Rouge Symphony Orchestra in Baton Rouge Louisiana, as well as arranger and electric string player position with the rock band Epic Unplugged base in Dallas, Texas. In 2021, she received the "Bow Rehairing" Professional Development and Training under the professor Lynn Hannings.
Seowon Lee: Seowon Lee has participated in many competitions throughout Korea. She won First Prize in the Korean Symphony Orchestra Competition and was Bronze-Medalist in the Korea- Germany Brahms Association Competition. She also won the Baroque Ensemble Chamber Music Competition. Seowon has soloed with the Jinju Youth Orchestra, Kyung-Nam Arts High School Orchestra, and Ewha Women's University Orchestra. She has performed in music festivals in the United States and Korea and participated in master classes with Miriam Fried, Paul Biss, Alex Kerr, Kirsten Yon, and Lin He. Ms. Lee received her bachelor's degree from Ewha Women's University, where she was concertmaster of the Ewha Symphony. She then came to the United States where she received her master's degree and performance diploma from the Indiana University Jacobs School of Music studying with Ik-Hwan Bae. She was the recipient of Artistic Excellence Awards in 2010-2013 at Indiana University. She recently earned a Doctor of Musical Arts degree at the University of North Texas where she was a member of the Bancroft String Quartet. She has served as Principal second violin of the Richardson Symphony Orchestra and section violin of the Las Colinas Symphony Orchestra.
Dr. Yinhui "Stacy" Li, Pianist:
Dr. Li started piano lessons at five and performing in public in China at seven. She earned her master's degree in Piano Performance at Bowling Green State University after graduating from Sichuan Conservatory of Music of China with a bachelor's degree in Piano Performance. She further obtained a Doctor of Music degree in Piano Performance from Florida State University under the instruction of Dr. Robert Satterlee, Dr. David Kalhous, Ian Hobson, and the late Steinway Artist Joel Hastings.
Dr. Li was a prize winner of the TOYAMA Hong Kong Piano Competition and the 2016 Florida State University Annual Piano Competition winner. She has appeared internationally as a soloist and chamber music musician throughout the U.S. in Pittsburgh, Charlotte, Tallahassee, Dallas; Sulzbach and Rosenberg, Germany; Corfu, Greece; Shanghai, Chengdu, Chongqing, and Guiyang of China.
In 2012, she played a series of duo concerts in Sichuan, China, to support Smile Angel Foundation, sponsored by a hospital to treat more cheilopalatognathus patients. Each of those concerts had more than 500 audience members. Besides all those performing experiences, Dr. Li also worked as a visiting professor at the Piano Department of Sichuan Conservatory of Music.
Dr. Li's repertoire widely ranges from the Baroque period to contemporary music. She appeared at the biannual Ligeti Études concert at the 17th New Music Festival at Florida State University where she collaborated with a rising young composer Fernanda Navarro at the 18th New Music Festival. Among the other projects, she has also performed one of the most representative minimal piano works " Phrygian Gates" written by a living American composer John Adams ( b. 1947) in Tallahassee, Florida.
As a versatile individual, Dr. Li has had the opportunity to assume different professional roles, including being a private piano lesson instructor and a music camp organizer. Through these experiences, she has been fortunate enough to educate a diverse group of students aged from pre-kindergarten to college. All students became capable of playing the piano and acquired a deeper understanding of music, making their musical journeys more meaningful.
Dr. Li founded Prime Music Institute in 2021, and currently serves as the Director and a piano faculty member at PMI. Dr. Li is a Steinway Educational Partner.
Box Office and Purchase Policy