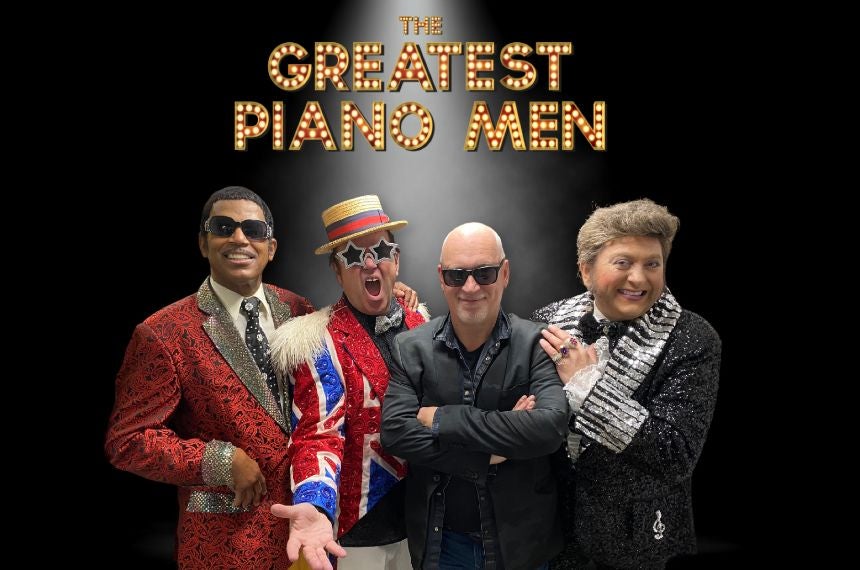 The Greatest Piano Men
Tickets $46, November 4th 2023 at 2pm and 8pm
Nov
4
, 2023
The Greatest Piano Men
Tickets $46, November 4th 2023 at 2pm and 8pm
Date

Nov

4

, 2023

Venue

Main Hall

Ticket Prices

$46 *plus fees

On Sale

On Sale Now
Event Details
The Greatest Piano Men
Saturday, November 4th 2023 at 2pm and 8pm in the Main Hall
Tickets are $46 *plus fees
A LIVE ROCK & ROLL CELEBRATION OF THE GREATEST PIANO ICONS IN MUSIC
This electrifying production from Jeff Davis, Executive Producer of Broadway's 'Rock of Ages,' debuted to rave reviews at the Flamingo in Las Vegas celebrating the world's greatest pianists and showmen – from Little Richard, Jerry Lee Lewis and Ray Charles to Stevie Wonder, Elton John, Liberace and Billy Joel! The show features storytelling, video, female backup singers, a great band and 25 hit songs including "Good Golly Miss Molly", "Superstition", "Rocket Man", "Tiny Dancer" and "New York State of Mind".
The Mr. Cooper Group Lobby Gallery opens 1 Hour prior to the performance starting and the Main Hall doors open 30 Minutes prior to the performance starting.
*Concessions will be open before the performance.
DONNIE KEHR
Donnie Kehr is a lifelong musician and American actor, having originated roles in Broadway's Jersey Boys, The Who's 'Tommy,' Billy Elliot and many others. His film credits include Jersey Boys directed by Clint Eastwood, Wall Street, Chaplin with Robert Downey Jr. and more. He has also guest starred in television shows such as House Of Cards, Gotham, Quantico, Daredevil, Tales Of The City and has performed on the Tonight Show, David Letterman, Good Morning America, Macy's Thanksgiving Day Parade and the Oscars. Kehr has sung on two Grammy Award winning albums: The Who's 'Tommy' in 1993 (featured singer for Pinball Wizard) and Jersey Boys in 2006.
Donnie directs live concerts including "Rockers on Broadway" New York Concert Series, The 15th Anniversary Reunion Concert of The Who's 'Tommy' on Broadway, and the opening ceremonies for the 2009 Maccabi Games at Madison Square Garden. He received a Best Director of a musical nomination at The Midtown International Theatre Festival in 2013. Currently Mr. Kehr is proud to be the Creator and Executive Producer of The Greatest Piano Men. www.donniekehr.com
PETE PETERKIN
Pete Peterkin is a singer, actor, dancer, comic, impressionist and multi-instrumentalist as well as a writer of literature and song. His services are in constant demand year round. He is a songwriter and a self-taught R&B/jazz guitarist (among several other instruments). Singing led him into impressions (over 200 and counting) as well as acting. Subsequently he was able to obtain roles in several stage and television productions usually cast as a legendary entertainer. In 2009, Pete made the finals of America's Got Talent as "The Rock & Roll President;" his performance was seen by over 100 million.
BILL CONNORS
Bill Connors has won awards perfecting the art of portraying Sir Elton John; the voice, mannerisms and nuances of the rock icon have been carefully studied and recreated. Bill also possesses what cannot be learned by impersonators: an uncanny resemblance to Captain Fantastic. From America's Got Talent to Legends in Concert, Bill has performed for over 15 years with more than 3000 performances. . He has portrayed Elton in top venues, concert halls and sporting arenas across America. Bill's show at the world-famous Jake Ivory's won the club The Improper Bostonian's "Best of Boston" Award, and recently in Connecticut, his ' Keys to the City ' won best piano show for two years running. The colorful costumes, the fabulous showmanship, and time tested hit songs -- they are all captured by Bill.
DAVID K. MAIOCCO
Well known on the NYC Cabaret Scene, David Maiocco is an award winning musical director, pianist and accomplished actor. David served as Orchestrator and Musical Director for the Off Broadway show "I Will Come Back!" by Hugh Martin and Timothy Gray at Players Theatre and served as Musical Director and pianist for impersonators of some of the most iconic and legendary stars. David was awarded the Backstage Bistro Award for Outstanding Musical Direction in 2000, The MAC Award for Best Musical Director in 2002 and upon his return to the NYC Cabaret Scene, he and colleague Chuck Sweeney were awarded the Backstage Bistro Award for Best Musical Comedy Duo in 2017 for their interpretations of Liberace and Miss Peggy Lee in "Lee Squared" -The Liberace and Peggy Lee Comeback Tour. "Lee Squared" has performed in New York City, Palm Springs, Fort Lauderdale, Puerto Vallarta, MX, San Diego, San Francisco, Provincetown and Ogunquit, ME. As one of the most well recognized Liberace tribute artists, David has played the title role in Brent Hazleton's play "Liberace!" at Theatre in the Circle in Cleveland, OH., and Farmers Alley Theatre in Kalamazoo, MI where he was nominated for 2 Broadway World Michigan Awards for best actor in a musical and best one man show. David's solo Liberace show has been performed at North Shore Music Theatre in Beverly, MA, Natchez and Jackson, MS, Norwalk, CT and Puerto Vallarta, MX. David continues to perform a Liberace tribute show and is the host of David Maiocco's Virtual Variety Hour weekly as a part of Virtual Piano Bar, based in Provincetown, MA. Most recently, David was seen portraying Liberace is in the Netflix film 'Army of the Dead' directed by Zack Snyder, which was released in May of 2021.
Build Your Own Package Deal, 10% Off when you purchase tickets to 4 or more shows!
Purchase tickets to 4 or more shows at one time offered in our 2023-24 Season and receive 10% off on all tickets purchased.
Click Here to Build Your Own Package Today!
*Presentations by the Coppell Arts Center's resident companies are excluded from season subscriptions and Flex Ticketing Packages.
We offer a group discount when purchasing 10 or more tickets to a single show. If you would like to purchase 10 or more tickets to this show, please call or visit the Box Office to process your order. Call us at 972-304-7047