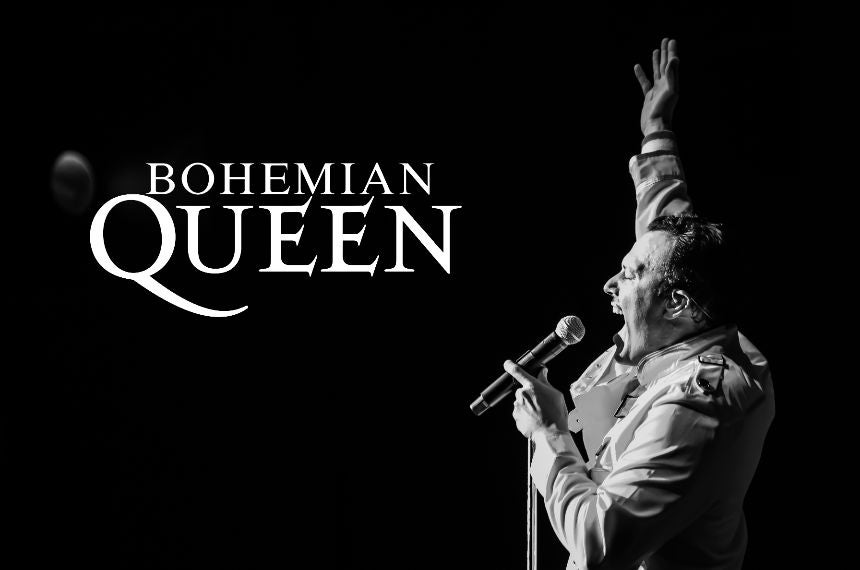 Bohemian Queen
Tickets $46, April 6th 2024 at 2pm and 8pm
Apr
6
, 2024
Bohemian Queen
Tickets $46, April 6th 2024 at 2pm and 8pm
Date

Apr

6

, 2024

Venue

Main Hall

Ticket Prices

$46

On Sale

On Sale Now
Event Details
Bohemian Queen
Saturday, April 6th 2024 at 2pm and 8pm in the Main Hall
Tickets are $46 *plus fees
Hailed as "The World's Most Passionate Queen Tribute" with their high-energy performances and authentic aesthetic, Bohemian Queen put on a theatrical show featuring a wide range of songs from Queen's entire catalog. BQ's passion, talent and love for the music is matched only by their expertly-produced shows and sophisticated performances.

Many tributes focus on the flamboyant contributions of Freddie Mercury, but all great bands are larger than the sum of its parts, which is why Bohemian Queen showcases a cohesive 'LIVE' band, displaying the dynamic musicianship and stage presence from each Queen band member.
Faithfully performing hit after hit, Bohemian Queen delivers a vibrant, energetic show that demands your attention as you smile, dance, and clap to the beat!
The Mr. Cooper Group Lobby Gallery opens 1 Hour prior to the performance starting and the Main Hall doors open 30 Minutes prior to the performance starting.
*Concessions will be open before the performance.
Vocalist Paulie Z channels the soaring vocal power of Freddie Mercury, fearlessly commanding the stage, and LOVES to dress up in Freddie fashion and swagger with multiple costume changes. Hailing from Brooklyn, NY, he led his own band ZO2 through a tour with rock heavyweights KISS and Poison, a band which was also chronicled in the IFC comedy series "Z Rock." Upon moving to Los Angeles, Paulie was also recruited to sing with the legendary UK glam rockers Sweet.

Guitarist Steve Zukowsky, a finalist for the guitar position in the official Queen tribute band Queen Extravaganza, locks in the crunch and harmonies of Brian May. Veteran tribute band royalty, Steve mastered the classic rock greats over a career delivering note-for-note guitar parts of Queen (Sheer Heart Attack), Led Zeppelin (Led Zepagain), Pink Floyd (Which One's Pink?), The Rolling Stones and David Bowie (Windborne).

Originally from Buffalo, southpaw singing drummer Glenn Jost started performing at 15 before moving to New York City played the clubs while working for 13X Grammy-winning engineer Bob Ludwig. Moving to Los Angeles, Glenn carved out an eclectic niche of projects, playing at the Playboy Jazz Festival, drumming on FOX's hit TV Series Ally McBeal, Dreamgirls, Robin Williams (Improv All-Stars) and relentlessly continues to write, sing, and record his own music ReLoVe on AWAL Records.

Canadian-born bassist Aaron Samson grew up in Los Angeles with the music bug, quickly landing himself on the legendary RCA Records roster and the classic documentary "The Decline of Western Civilization Part II: The Metal Years." A protege of legendary composer David Foster, Aaron would go on to play with various LA bands as well as rock heroes like George Lynch (Dokken) and Steven Adler (Guns 'N Roses) and John 5 (David Lee Roth, Marilyn Manson).

Keyboardist Victor Bender began his musical life playing the clubs of Colombia at night while assisting at the studio of prominent label Fuentes Records and crafting demos for artists including pop sensation Juanes on Universal Records. Moving to Los Angeles, Victor formed Bender Post and dove into campaigns for major national brands (Coca-
Cola, Samsung, Nordstrom, Dawn) and TV and movie studios (Disney, Paramount, Netflix, Sony, Universal, FOX). He already had Queen's catalog down stone cold, playing the keys in Sheer Heart Attack.
Build Your Own Package Deal, 10% Off when you purchase tickets to 4 or more shows!
Purchase tickets to 4 or more shows at one time offered in our 2023-24 Season and receive 10% off on all tickets purchased.
Click Here to Build Your Own Package Today!
*Presentations by the Coppell Arts Center's resident companies are excluded from season subscriptions and Flex Ticketing Packages.
We offer a group discount when purchasing 10 or more tickets to a single show. If you would like to purchase 10 or more tickets to this show, please call or visit the Box Office to process your order. Call us at 972-304-7047